Do you have the impression that your complexion is dull and/or your eyes are congested?
Do you feel a slackening of the skin?
Do you feel tension in your jaw?
Are you looking for deep relaxation and letting go?
The effects of anti-aging facial massage
Facial massage allows the person to be in a state of deep relaxation, mental and physical release.
It will delay the appearance of the signs of aging and limit skin slackening. It also helps to stimulate blood circulation to increase the production of collagen and elastin.
This type of massage will act on the various muscular tensions of the face, in particular tight jaws and/or the frowns of the eyebrows.
It prevents and reduces the appearance of bags under the eyes, by draining this congestion.
Thanks to certain techniques that alternate between slow and fast maneuvers, deep work will then act on the muscles to obtain a natural lifting and a radiant complexion.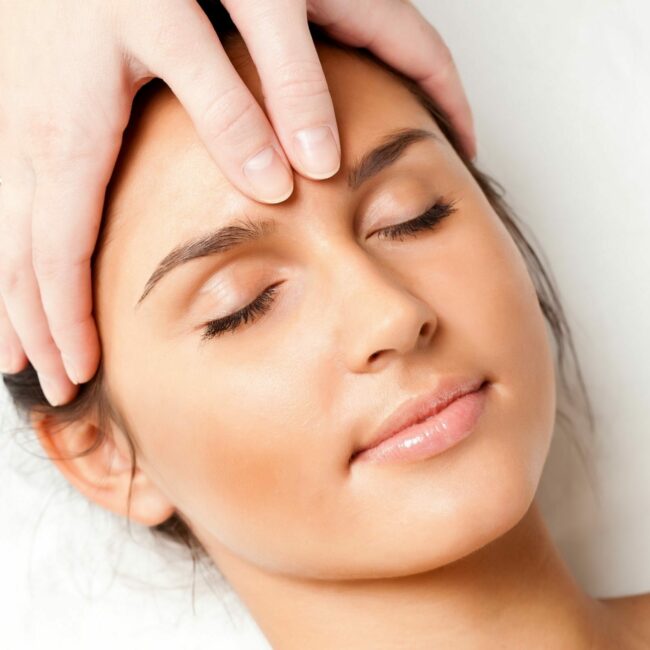 The benefits of facial massage
Relaxes the muscles
Stimulates blood circulation to restore radiance
Natural face lift
Brightens and refreshes the complexion
Reduces tension and relieves headaches
Reduces stress
Draining effect that allows a better evacuation of toxins
How does the facial care work at la Clinique Naturelle?
First, the therapist will do a short analysis of the skin by asking a few questions about the patient's consumption of products and lifestyle.
She will then proceed to a thorough cleansing of the epidermis in order to remove all traces of pollution and/or impurities.  The skin will then be ready to receive the facial oil massage.
The therapist will work on the muscles of the neck, face and scalp in order to relax them and relieve tension, but also lift thanks to certain manual techniques. This will allow a real letting go.
The result is immediate, you feel a sensation of freshness and rejuvenation.
In order to relax and relieve tension to obtain a certain suppleness, manual work will be done on all the muscles of the neck, the face and the scalp.
The work with the facial suction cup will improve blood circulation, promote better drainage and regain a certain elasticity, thus reducing wrinkles and fine lines.
A complete and thorough session to relax the muscles of the neck, face and scalp is carried out.
Muscular tensions will be released thanks to the manual techniques and the use of the suction cup.
Finally, a cranial massage will soothe the nervous system, which will decrease the effects of stress on the body and improve blood circulation. You will feel a real letting go.
(subscription valid for 1 year)
Prices
One session of 45 minutes
120 CHF
One session of 60 minutes
140 CHF
One session of 90 minutes
195 CHF
Five sessions
from
550 CHF
5 sessions (5x45min) or (5x60min) or (5x90min)
Ten sessions
from
1000 CHF
10 sessions (10x45min) or (5x45min) or (5x60min) or (5x90min)